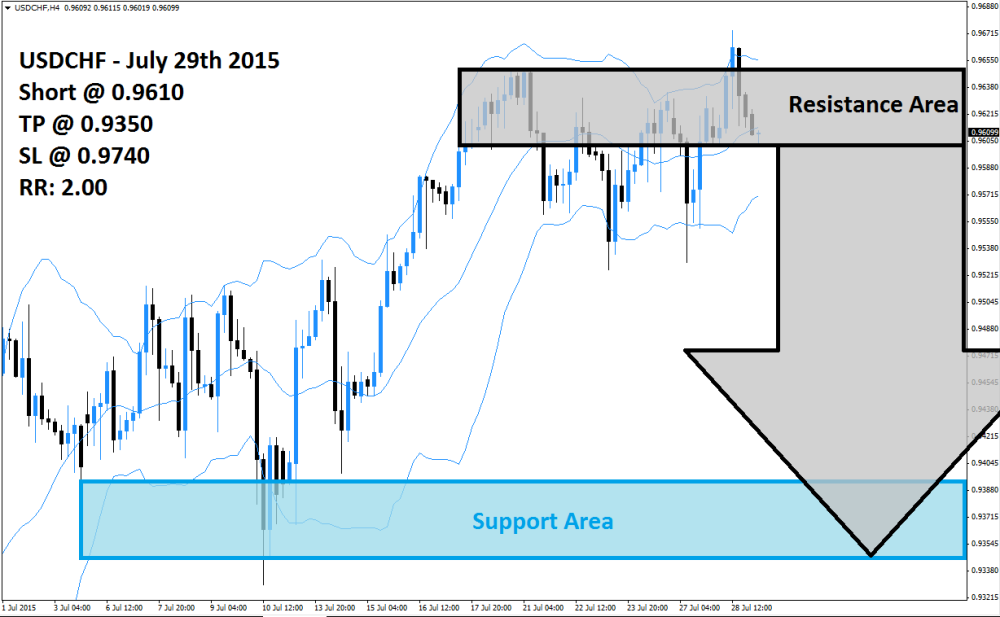 The USDCHF has rallied sharply on the back of strength in the US Dollar as expectations for an increase in interest rates by the US Fed have fueled the rally. Today's FOMC announcement is expected to provide some key insights into what is going on in the US Fed. The overall outlook by strategists has been for a hawkish outcome. The current sideways trend inside of its resistance area, which is visible in light grey in the above H4 chart, shows a wait-and-see approach by forex traders.
The Bollinger Band Indicator has confirmed the sideways trend with the upper band trading above of its resistance area and the lower band trading below it while the middle band is trading inside of it. All three bands are trading sideways. Profit taking after the FOMC announcement could lead to a sharp sell-off which can take the USDCHF to its support area which is marked in light blue in the above chart. A breakdown below the lower band is likely to fuel the profit taking sell-off.
Forex traders are recommended to enter short positions at 0.9610 and above in order to be well positioned for a sell-off in this currency pair. Conservative forex traders should wait for the confirmed breakdown below the lower band of its Bollinger Band Indicator before entering their short positions in the USDCHF. A take profit target of 0.9350 has been selected for a potential trading profit of 260 pips in this currency pair.
Forex traders should protect this trade with a stop loss level at 0.9740 for a potential trading loss of 130 pips which will result in a Risk-Reward (RR) ratio of 3.00.
USDCHF
Short @ 0.9610
TP @ 0.9350
SL @ 0.9740
RR: 2.00