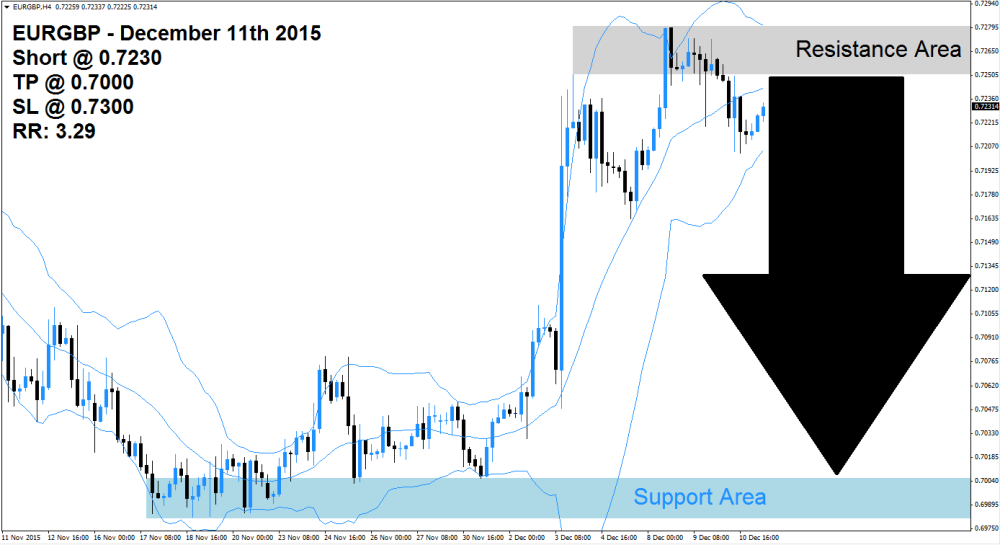 The EUR vs GBP rallied from its support area which is marked in light blue in the above H4 chart into its resistance area visible in light grey. The strong rally was supported by its Bollinger Band indicator with the middle band providing a solid support level. The upper band was able to breakout above the resistance area and is now trading above it, but this currency pair has already broken down below the resistance area which cancelled the rally.
The breakdown has ceased the addition of new net long positions and forex traders have begun to realize floating trading profits by closing long entries. The breakdown of the EURGBP below the middle Bollinger Band has now increased selling pressure and this currency pair is clear to reverse its rally back down into the support area from where new sell orders may stop and a sideways trend could emerge prior to a short-covering rally.
Forex traders are advised to enter short positions at 0.7230 and above in order to be well position for the expected profit taking sell-off in this currency pair and a breakdown in price action. Conservative forex traders already received a strong sell signal with the breakdown below the middle Bollinger Band which increased selling pressure in this currency pair. A take profit target of 0.7000 has been selected for a potential trading profit of 230 pips.
Forex traders should protect this trade with a stop loss level at 0.7300 for a potential trading loss of 70 pips which will result in a Risk-Reward (RR) ratio of 3.29.
EURGBP
Short @ 0.7230
TP @ 0.7000
SL @ 0.7300
RR: 3.29