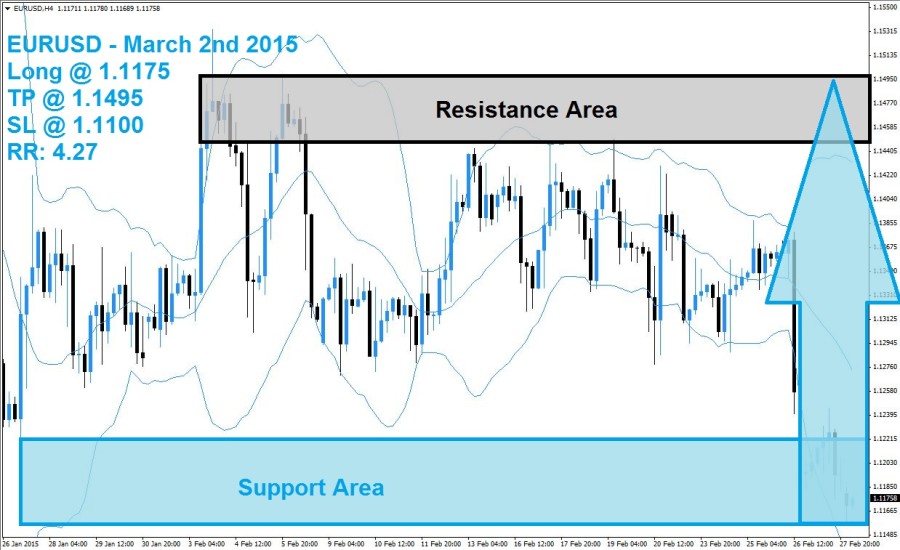 The EURUSD has sold-off last week after it was unable to breakout above it resistance area marked in grey in the above chart. This resistance area was a very important technical level and a breakout would have accelerated this currency pair. Price action was unable to break-in into this resistance area and after three failed attempts the EURUSD entered a sell-off which took this currency pair back down into its support area visible in blue. The Bollinger Bands have assisted the sell-off as the EURUSD was unable to trade above this technical indicator.
The EURUSD entered oversold territory and the risk for this currency pair remains to the upside. New short positions are unlikely inside its support area and today's economic data release out of the Eurozone may be just strong enough to reverse some of the recent losses. Forex traders are expected to realize floating trading profits which will result in a short-covering rally. A breakout above its support area will invite new net long positions in this currency pair and forex traders should seek out to profit with long positions at 1.1175 or below.
The lower Bollinger Band fell below the support area, but the Euro has shown signs of strength and is unlikely to follow suit and a short-covering rally remains in favor. Forex traders should set a take profit target at 1.1495 for a potential trading profit of 320 pips. A breakout above its support area is likely to accelerate the expected rally. The most recent candlestick pattern formed a hammer inside its support area which serves as a final bullish indicator for this trade.
Forex traders should protect this trade with a stop loss level at 1.1100 for a potential trading loss of 75 pips which will result in a Risk-Reward (RR) ratio of 4.27.
EURUSD
Long @ 1.1175
TP @ 1.1495
SL @ 1.1100
RR: 4.27