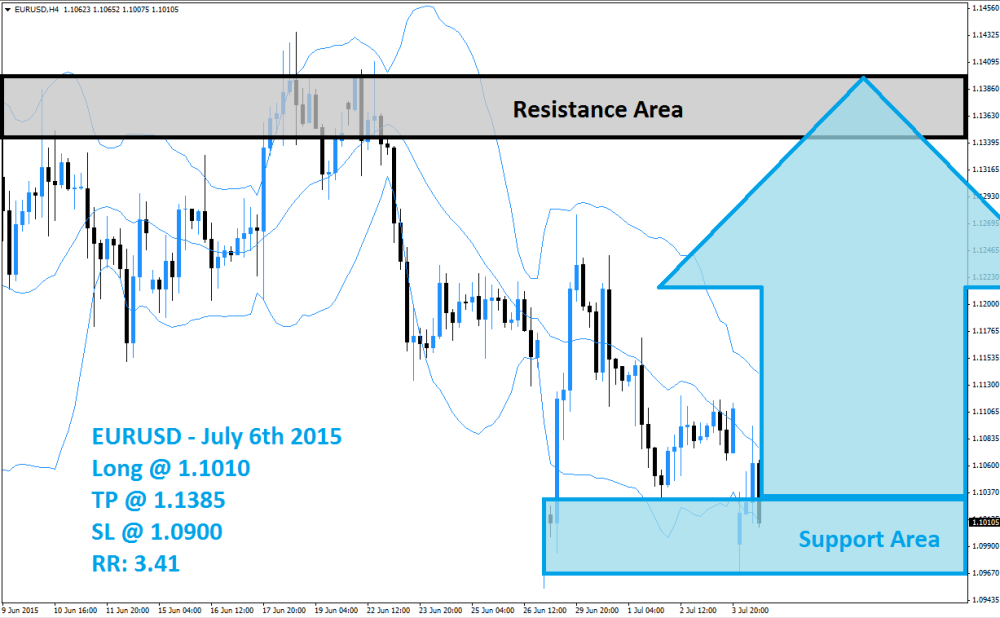 The EURUSD has sold off from its resistance area which is visible in light grey in the above H4 chart and has now approached its support area which you can see highlighted in light blue. The Euro came under pressure as the Greek government first announced a referendum and then held it yesterday. The Greek people voted 'No' to austerity which has increased uncertainty on what will happen to the Euro and therefore the currency continued its sell-off.
Despite the 'No' vote out of Greece the Euro trader rather calm as it is now inside of its support area. The Bollinger Band supported the sell-off with all three bands loping lower. Forex traders may decide to realize floating trading profits after a decent correction and exit their short positons. This could result in a short-covering rally which may be strong enough to lift the EURUSD back into its resistance area especially after price action breaks out above the middle band of its Bollinger Band Indicator.
Forex traders are recommended to enter long positions at 1.1010 and below as the EURUSD is expected to reverse its recent sell-off. Conservative forex traders are advised to wait for the EURUSD to breakout above the middle band of its Bollinger Band Indicator before entering their long positions. A take profit target of 1.1385 has been set for a potential trading profit of 375 pips on the H4 Chart. More buy orders are expected after the EURUSD trades above its middle Bollinger Band.
Forex traders should protect this trade with a stop loss level at 1.0900 for a potential trading loss of 110 pips which will result in a Risk-Reward (RR) ratio of 3.41.
EURUSD
Long @ 1.1010
TP @ 1.1385
SL @ 1.0900
RR: 3.41