1-EURUSD trading plan.
EURUSD is very choppy those days, and the best trading plan is just to keep flat. Nonetheless, if you really feel compelled to trade it, you may try to sell signals near 1,11 towards 1,09. Watch also price action at 1,09 and 1,145.
On the monthly chart we are rather in a bearish configuration according to SMAs, but the price action is roughly ranging. After what seems to be a failed bullish attempt in March – April this year, the pair went back down in May, then post a high waved indecision candle in June, and  July also starts with an indecision candle. There is a support around 1,0925 and a resistance near 1,12.
EURUSD MONTHLY CHART.

The euro is clearly in a ranging mode on the weekly chart. It was even slowly consolidating up, supported by a trend line, that broke down two weeks ago. Then, instead of keeping going south, the pair gave two small ranging candles, and the euro has been trading around a support/resistance zone near 1,11, with both 55 and 40 SMAs lurking around. The breaking down of that support line happened because of the Brexit, and you may wish to check price action at both extremities of that weekly candle, that is at 1,09 on the lower side and at 1,145 on the upper one.
EURUSD WEEKLY CHART.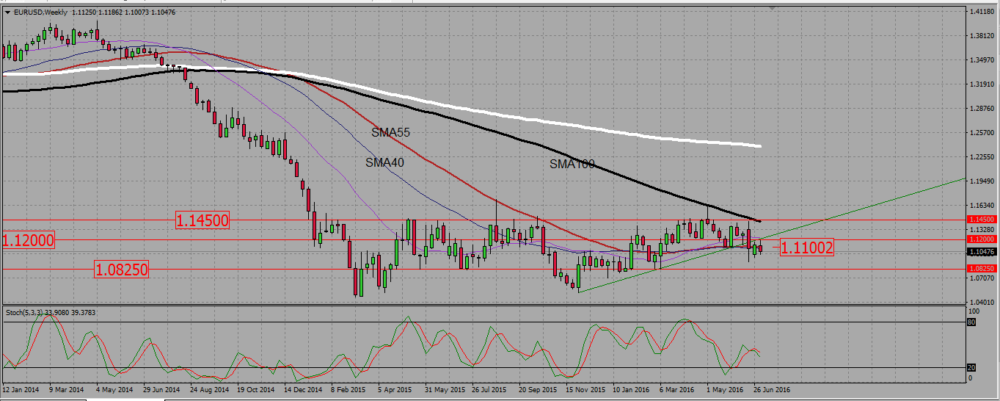 The daily chart gives us a clearer view of what happened post Brexit: indecision and wicked candles. A small fally failed to go further than 1,1175, and then the pair went slowly down to now trade around 1,105. The 200 SMA, located around 1,11, makes that level we noticed on the weekly chart even stronger. A strong rejection of that level as a resistance may be the only one thing I am willing to trade this week on that pair.
EURUSD DAILY CHART.

2-USDCAD trading plan.
Buy signals above 1,28 (1,26), and pay attention to price action around 1,30. aim for 1,34. Sell under 1,26.
The pair is in a support/resistance zone between 1,30 and 1,26 on the monthly chart. therefore it may behave oddly within that zone. It seems however than there is a resistance/support level at 1,28. SMAs suggest the pair is shifting from a bearish trend to a bullish one, even though the last bearish move that rejected a resistance near 1,46 in January this year was quite sharp and should not be under estimated.
USDCAD MONTHLY CHART.

The weekly chart shows an uptrend, with most SMAs pointing up. The pair is retesting -has retested?- a support zone under 1,28, but could not break it down. It was also supported by the 100 SMA and rallied over 1,30. Above that zone and above that SMA, I will look for buying signals.
USDCAD WEEKLY CHART.

But things are not that obvious on the daily chart. Evenf if the bearish consolidation that took place between January and April looks impressive, the pair strongly rejected a support near 1,245 in April and is more or less doing higher lows since that moment. It looks now blocked by the 100 daily SMA that acts as a resistance, but may have been broken up on Friday. This is why I prefer to buy dips, and more specifically, I will look at 1,30, 1,285 – 1,28, as well as at the 100 SMA for buying signals.
USDCAD DAILY CHART.

3-AUDUSD trading plan.
Watch the retest of 0,76, and buy a confirmed break out towards 0,786 or sell a reversal at 0,76 towards 0,733.
It is all written on the monthly chart. The pair has been consolidating down for a while, and the SMAs are suggesting a downtrend. However the pair found a support around 0,68 In January, and has been since going up . It stands now under a resistance at 0,76, and you should watch price action there. If the aussie breaks through that level, there is another resistance around 0,785, marked by the 200 SMA, which should be your take profit level.
AUDUSD MONTHLY CHART.