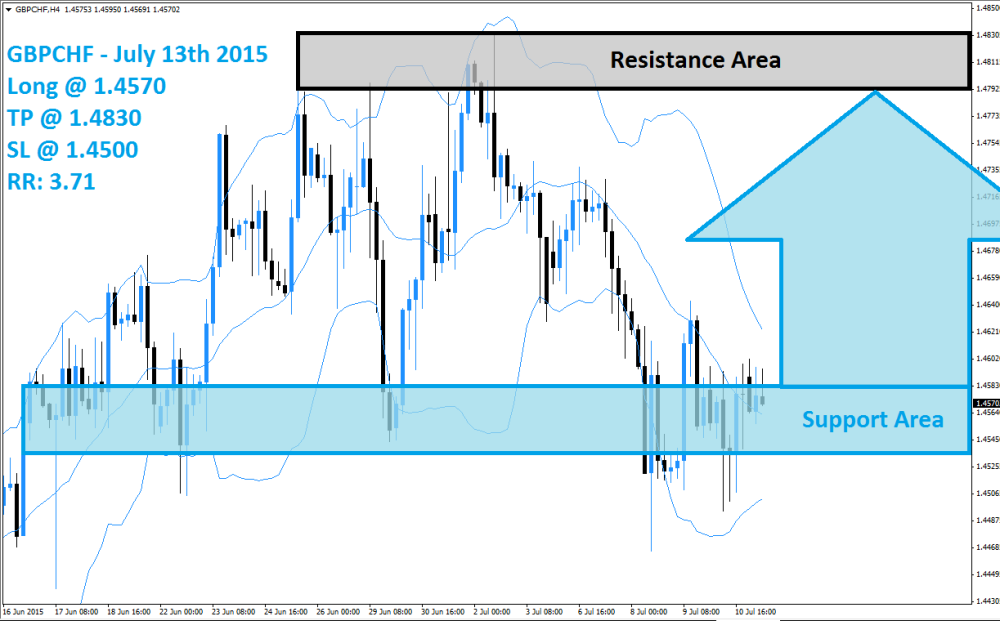 The GBPCHF has sold-off as the British Pound weakened and the Bollinger Band Indicator has confirmed the price contraction, but the sell-off may be nearing an end as the British Pound has rallied at the end of last week. While other currency pairs reflected the reversal the GBPCHF is lagging behind this move, but the sell-off was stopped inside of its support area which is visible in light blue in the above H4 chart and this currency pair is currently oversold.
While the upper band and the middle band of its Bollinger Band indicator continue to slope to the downside, the lower band has started to points towards a rally. The upper Bollinger band is trading above the support area while the lower band is trading below. Price action is trading between the middle band and the upper band which turned momentum around and the GBPCHF is expected to rally back into its resistance area which is marked in light grey.
Forex traders are recommended to position themselves for the expected short-covering rally with long positions at 1.4570 and below in. Conservative forex traders may wish to wait for the GBPCHF to breakout above the upper band of its Bollinger Band Indicator before going long. A take profit target of 1.4830 has been set for a potential trading profit of 260 pips on the H4 Chart. More buy orders are expected after the GBPCHF break outs above its upper Bollinger Band.
Forex traders should protect this trade with a stop loss level at 1.4500 for a potential trading loss of 70 pips which will result in a Risk-Reward (RR) ratio of 3.71.
GBPCHF
Long @ 1.4570
TP @ 1.4830
SL @ 1.4500
RR: 3.71