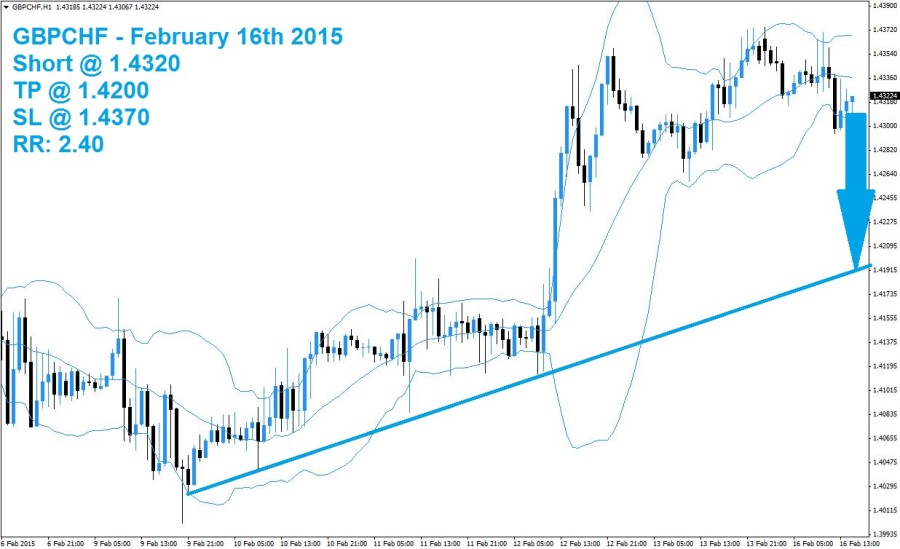 The GBPCHF advanced strongly and was supported by its ascending support level. After its most recent test of this ascending support level the GBPCHF accelerated sharply to the upside supported by Bank of England comments about an expected increase in inflation towards the end of 2015. This allowed the British Pound to rally sharply while the Swiss Franc continues to reverse the sharp moves from January 15th 2015. (see here BoE MPC Meeting Dates)
Forex traders should look for short entries at 1.4320 as this currency pair shows signs of exhaustion and a sideways trend has formed. The GBPCHF is currently finding minor support form a young ascending support level formed after its price spike, but this level is vulnerable for a breakdown amid likely profit taking as forex traders seek to protect their profits and close their long positions.
The profit taking correction is expected to near its end at its solid support level around the 1.4200 level. This is where the ascending support level which provided the platform for the price spike will meet the GBPCHF. In addition it is roughly the top end of a horizontal support level. A breakdown below this level is not expected.
Forex traders should protect this trade with a stop loss level at 1.4370 which will result in a Risk-Reward (RR) ratio of 2.40.
GBPCHF
Short 1.4320
SL  1.4200
TP  1.4370
RR 2.40