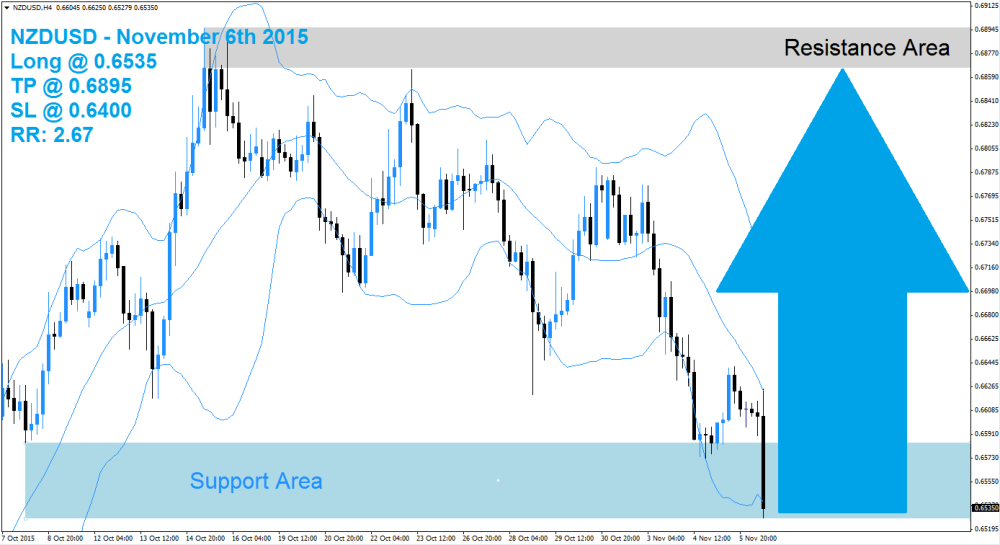 The NZDUSD sold off amid profit taking which took this currency pair from its resistance area marked in light grey in the above H4 chart down into its support area visible in light blue. The latest leg lower was delivered by a better than expected NFP report out of the US which send the USD rallying. (Look at NEWS on MT4 Chart indicator) The lower band of the Bollinger Band indicator has already started to reverse which could mark the end of the sell-off.
Price action is trading between the lower band and the middle band of the Bollinger Band indicator and forex traders may opt to realize floating trading profits following the sell-off. This is expected to lead to a short-covering rally as exiting short positions will be replaced by long positions. A breakout above the middle band as well as the support area is likely to lead to the addition of new net long positions in the NZDUSD currency pair.
Forex traders are recommended to enter long positions at 0.6535 and below this level in order to take advantage from the expected short-covering rally. Conservative forex traders should wait for a breakout above the upper band of it Bollinger Band indicator before entering their long positions. A take profit target of 0.6895 has been set for a potential trading profit of 360 pips on the H4 Chart. More buy orders are expected after the NZDUSD completes its breakout above the middle Bollinger Band.
Forex traders should protect this trade with a stop loss level at 0.6400 for a potential trading loss of 135 pips which will result in a Risk-Reward (RR) ratio of 2.67.
NZDUSD
Long @ 0.6535
TP @ 0.6895
SL @ 0.6400
RR: 2.67
Would you like receive more such signals?
($9 per month)