1-USDCAD trading plan.
Look for selling signals after a consolidation up to 1,235.
USDCAD broke a daily range support on Wednesday but Friday candle is a hammer rejecting SMA100 support around 1,22. the pair now trades at 1,223. The support of the range is at 1,235.
UCAD DAILY CHART.

On the monthly chart the pair is retesting SMA200 as a support.
USDCAD MONTHLY CHART.

On the weekly it is retesting SMA20 as a support.
USDCAD WEEKLY CHART.

Depending upon where the pair will open on Monday, we expect those support to hold and USDCAD to retest the daily range support around 1,235 before turning bearish again.
2-CADJPY TRADING PLAN.
Look for long signals around 96,25, towards 99.
The CADJPY also broke a daily range resistance, around 96,25. It first went up but then was blocked by both SMA200 and 100 around 97,2 and 98,7 acting as resistances. We expect it now to retest the range resistance and we will be looking for buying signals above that level.
CADJPY DAILY CHART.

On the weekly chart, although the last candle is a bullish one, it is blocked by both SMA20 and 40 on a 50 fib level resistance. That calls for some bearish consolidation for the beginning of the week.
CADJPY WEEKLY CHART.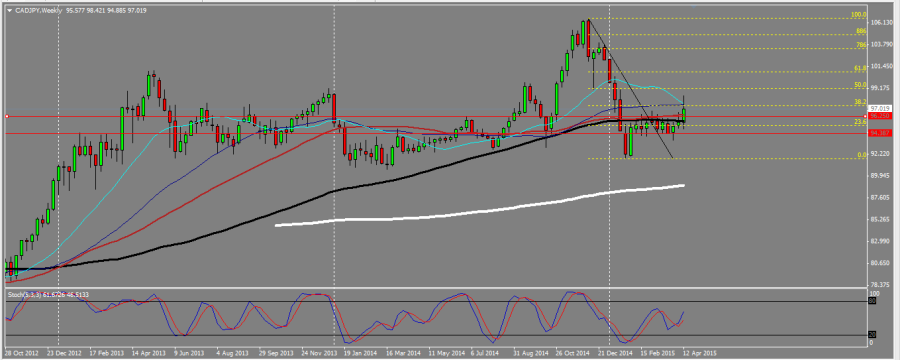 3-EURAUD TRADING PLAN.
Watch 1,38 for a possible bullish reversal. Aim at 1,40 and 1,425.
On the monthly chart EURAUD looks bearish but it is coming at a very strong support line around 1,38, that has been tested 9 times and broke only twice through the last four years.
EURAUD MONTHLY CHART.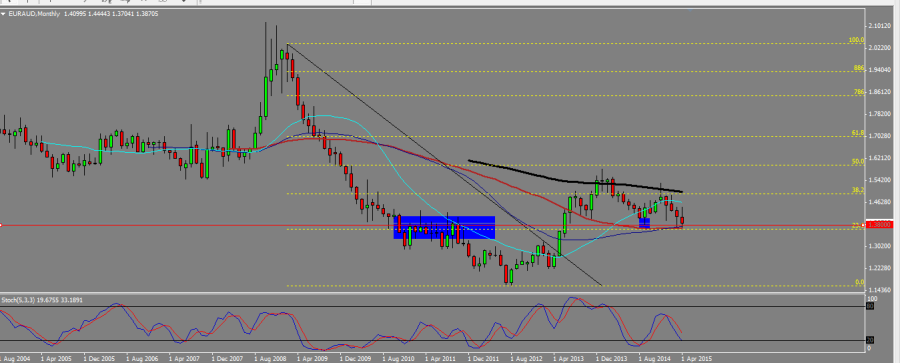 On the daily, we see the pair tested and rejected a support around 1,3725. The EURAUD managed to go under that support following some news, but quickly rejected it and went back above the 1,38 level.
EURAUD DAILY CHART.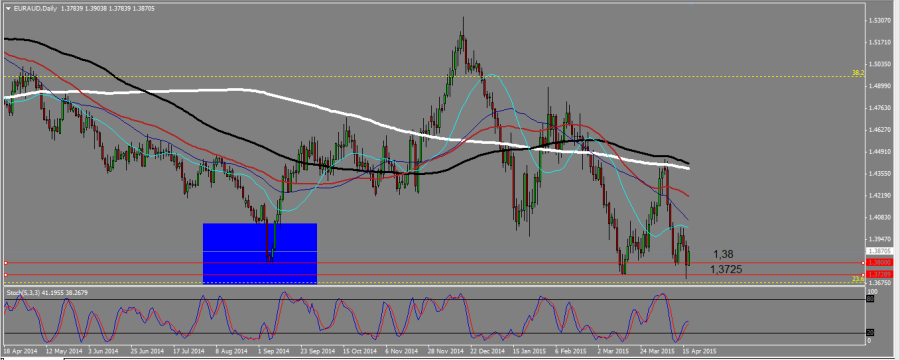 AUD looks quite strong now, so there is a possibility that monthly support at 1,38 will finally give way. However, as long a we keep above it, we prefer to buy dips.
But should it break down, be retested and confirm a bearish break down, we will rather look to sell rallies.