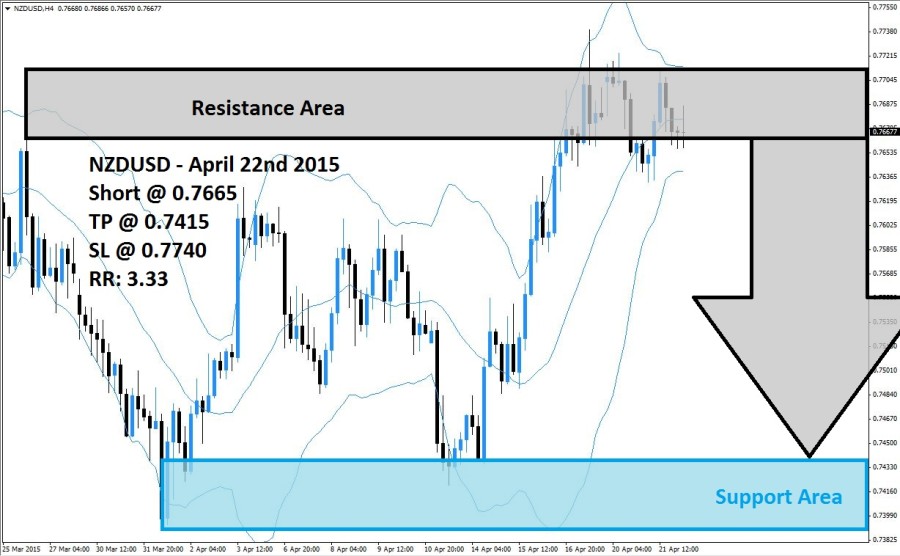 The NZDUSD is currently trading inside of its resistance area, which is visible in light grey in the above H4 chart, as it struggles to add to its recent rally. The NZDUSD moved steeply higher as a short-covering rally merged with fundamental reports and resulted in forex traders switching momentum. After this currency pair bounced off of its support area, which is visible in light blue, the first leg higher took the NZDUSD above the middle band of its Bollinger Band indicator from where the rally gained steam until it reached its resistance area.
As the NZDUSD failed to breakout above its resistance area the Bollinger Band indicator lost its upward momentum and has now started to trend sideways with the upper band as well as the lower band enclosing the resistance area and the middle band trending inside of it. Forex traders may decide to realize floating trading profits in this currency pair as momentum appears to be changing once again. This could result in a breakdown below its resistance area as well as its lower Bollinger Band which is expected to result in a sell-off.
Forex traders are advised to look out for short positions at 0.7765 and above in order to profit from the expected sell-off in the NZDUSD. Today's fundamental data out of the US is likely to provide the catalyst for the expected profit taking sell-off and forex traders should try to enter their short positions prior to the release in order to maximize their profit potential. A take profit target of 0.7415 has been selected for a potential profit of 250 pips.
Forex traders should protect this trade with a stop loss level at 0.7740 for a potential trading loss of 75 pips which will result in a Risk-Reward (RR) ratio of 3.33.
NZDUSD
Short @ 0.7665
TP @ 0.7415
SL @ 0.7740
RR: 3.33