How to trade effectively the Non Farm payroll ?
 The Non Farm Payroll is the most significant data in the US , usually published the first Friday of each month , at 8:30 am EST , it is a major economic indicator that measures the employment situation on the USA . A strong non farm payroll number means a solid , growing and abundant economy. On the other side , a weak number is synonym of slowing economy . It is always compared with the previous month data (added or losing jobs except the farm industry ) between +10.000 et +250.000 . The FOMC based their monetary policies decisions on the results of NFP Reports . In the Forex market , the NFP is a great volatility maker , not only in forex markets but also in stocks and bonds . (see Non-farm payroll dates here)
In this article , we will project the lights on 2 trading NFP strategies , that works and provide best results .
The first one on the day of reports using 5 minutes daily chart and the Second one at the end of monday (next NFP) using the daily chart .
1 – Friday Trading Strategy (the NFP Release):
The rule :
At the opening of Market US Session , take a look at the first 8:30 bar , you should wait for the next bar going below the low of the 8:30 Bar , or above the high of 8:30 bar . this bar becomes our valid Bar . then you should place a sell stop 15 Pips above the high of this bar and 15 Pips below the low oh this bar , the trade must be executed the same day . Use always the Parabolic SAR or MACD to predict direction moves .
The figures below shows how it works :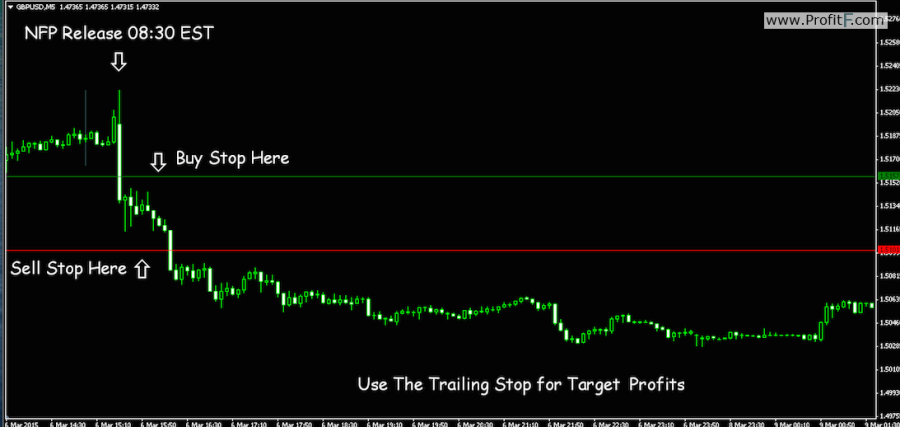 The beauty of this strategy is that you have always on the other side a sell stop or buy stop , even if the price take the other side of the trade , you can close the position with the use of PSAR and MACD , and the other trade will be executed . This strategy gives best results in trending markets, and this is the case in NFP Release .
2 – End of Monday (following the NFP) Trading Strategy :
The Rules :
At the end of monday following the NFP , you take a monday high by looking at the daily chart , and Place a Buy Stop (15 Pips ) above and Sell Stop order below the monday low (15 Pips ) on tuesday US opening session. The trend takes usually for a week . This position must
be closed at the end of the week on Friday .