If you are just beginning with online trading, you are most probably looking into binary options due to the simplicity of the whole process. Nevertheless, you main aim is to actually become successful and make money from the comfort of your couch. It is often possible to hear the proverb – practice makes it perfect, and this is never as true as when it comes to trading binary options online. In this article we will tell you how to start trading binaries online risk-free and how to understand when you are ready to move on with live trading.
What is a Binary Demo Account?
A demo account is also referred to as a paper trading account and the main purpose of it is to provide the potential traders with a certain demonstration of the trading platform, conditions and generally to make them familiar with the whole process of buying put and call binary options. The main beauty of a binary options demo account is that a trader can preview all of the trading mechanics without risking a single dollar of his own money. In other words, once you decide to start with binaries, you can learn the platform and test your trading strategy using virtual funds….read more about Binary Demo Accounts
How to get a Binary Options Demo Account?
Unlike Forex dealing centers, binary options brokers rarely supply demo accounts to their traders. However, almost any broker would be happy to provide a virtual money demo account account once you actually register with a broker and deposit some funds. Here is how you get such an account in 3 easy steps:
Step 1: Register at binary options broker
To get started, you would first need to be a client of a certain binary options brokerage.We recommend you to start with Opteck broker, as this broker has been verified by us and thousands of other traders. Open No deposit binary options account  The whole registration process is rather easy and should not require you more than 5 minutes.
Step 2: Talk to your account manager
Once you have registered, you will have an account manager assigned to your profile. In most of the cases, an account manager will get in touch with you within a working day, yet you can also contact him first. Once you are on the line with the account manager, request a demo account explaining that you would like to preview the platform before you deposit. In most of the cases, you will get a binary options demo account straight away. However, if this does not happen – read further.
Step 3: Make a minimum deposit
Some brokers provide virtual money accounts only to the people that have already deposited. This is done to simply assure that you are willing to trade and invest your time into your success. Don't be afraid, if you trust the broker – make a deposit and access your binary demo account. What is important to understand here is that you should not start trading real money straight away, trade on a demo account before you feel comfortable moving on to live trading.
How to understand that you are ready to real money trading?
Success is all about trial and error and binary options trading is not an exception. We certainly recommend you accomplish at least 100 trades before you can decide on moving to real money mode. Note that all of these 100 trades should not be just click-and-go, you should perform a careful analysis before purchasing any of the options. In general, you should aim for the win rate of at least 70%, hence out of 100 trades you should achieve at least 70 winning ones.
Now you know what binary options demo account is, how to get one and how to understand when you are ready to move on from paper money to real funds. It is time to act now – open an account  and get yourself a virtual money account.
Screenshot of Free binary options DEMO account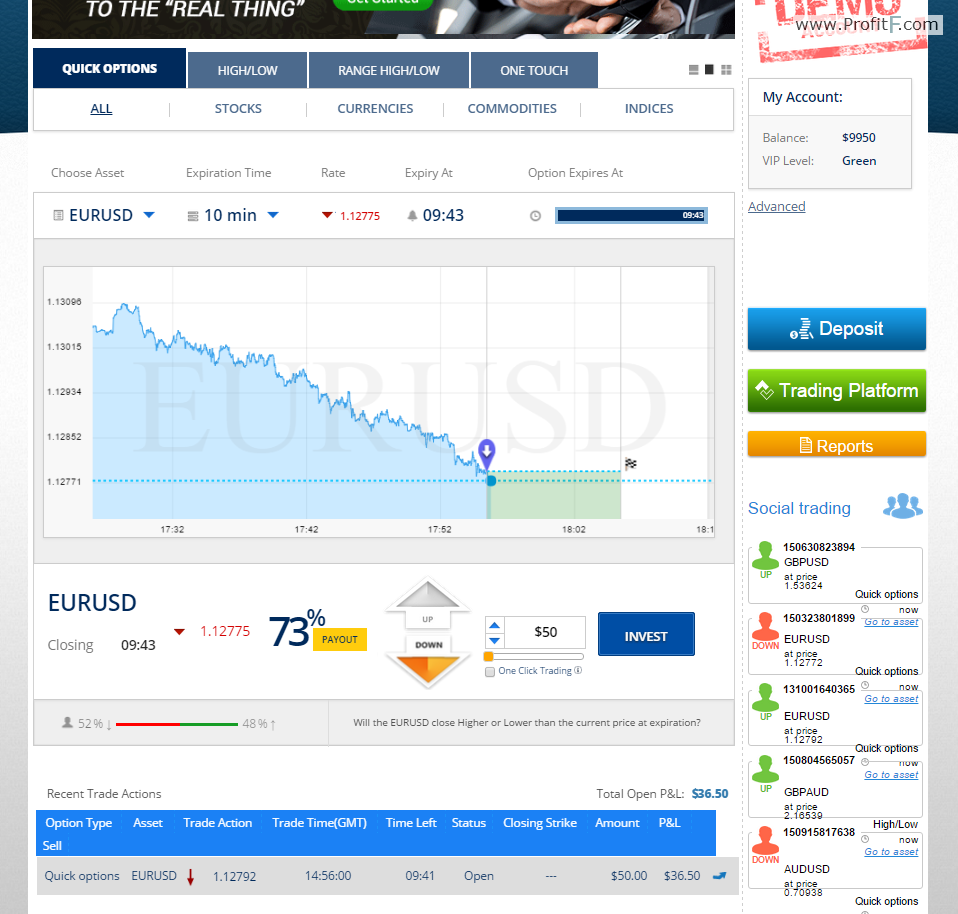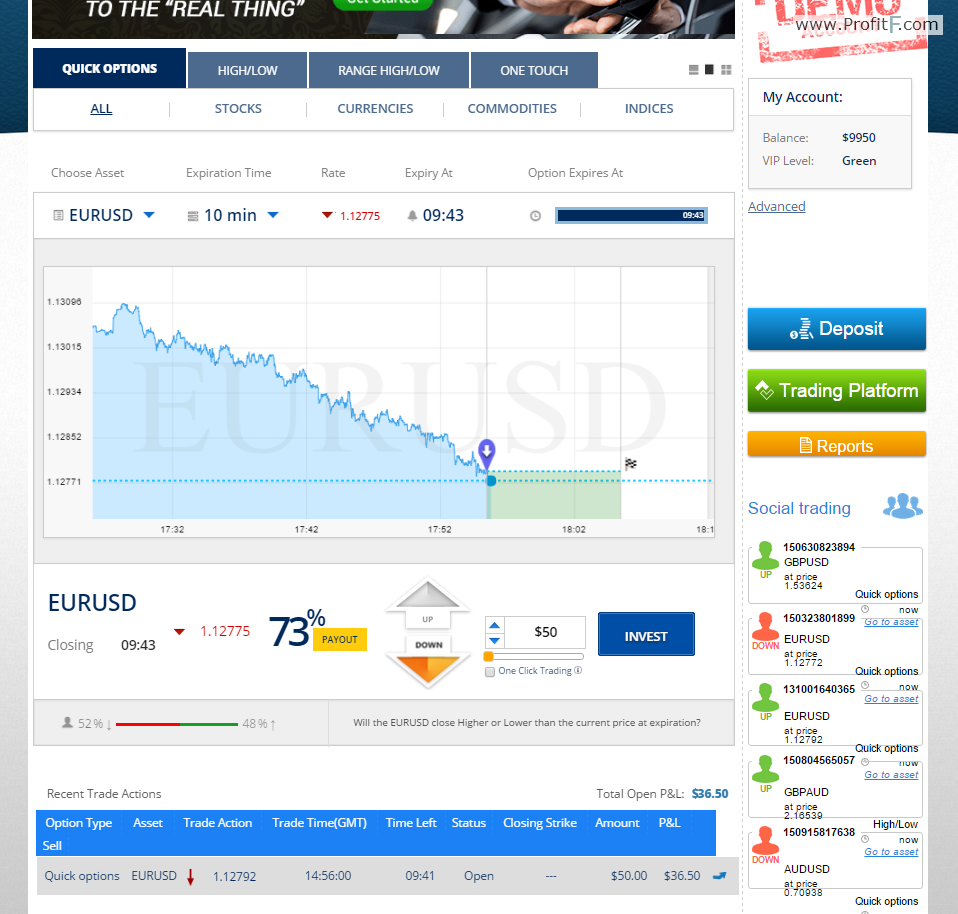 See our top of Binary Brokers with Demo accounts here >>