White Label Vs Grey Label – What Is Best For You?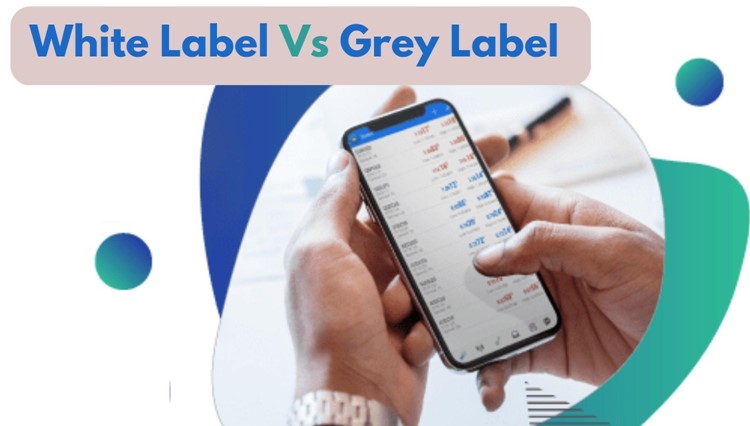 Most of the time companies and individuals with minimal experience in operating and managing a forex brokerage firm spend countless hours researching the best solution for their business. Looking for a suitable helping hand might require a lot of effort and time and mostly a big investment that most people can not afford.
So how do you reach out for help? How do you evaluate what strategy would be the best for your business? and who to approach? These questions might keep you up at night and hamper growth.
Services like white label and grey label are recognized as a suitable forex brokerage solution for individuals who are looking forward to starting their own brokerage business with limited resources and expertise. There are many white label financial firms in the market involved in providing an optimal platform to individuals for this purpose. A broker that runs white label program pays a commission to the white label service provider for using its license and infrastructure. A white label service provider on the other hand provides a pre-established infrastructure, necessary information and technological advancements to its clients. Whereas, grey label is almost a similar approach to white label but is relatively cheaper and provides more freedom to its clients. This article will explain the difference between the two and what is more suitable for you.
What Do We Understand By White Label?
A white label forex service provider is a financial services firm that is responsible for supplying expertise, trading platforms, liquidity suppliers, cost processors and back office assistance to a new white label broker business. The products of white label are manufactured by third parties and sold under the retailer's brand name. White label is a great way for new businesses and individuals as it eliminates the lengthy, expensive and time consuming process of starting a brokerage business from scratch.
Due to the pre-established reputation of a white label service provider, it becomes very easy for a new brokerage business to maintain a market presence and earn substantial profits from it. The amount charged by a white label forex service provider from its client is cheaper as compared to the amount that would be required to set up a new business from scratch.
Advantages Of Working With A White Label Forex Service Provider
Small businesses and individuals looking to start a forex brokerage firm can gain huge benefits from the services provided by a white label provider:
A white label service provider supplies a pre established platform to its clients for running the brokerage business therefore, it becomes very efficient for the new business to enter the market within no time.
An individual saves up on a lot of time, effort and money by availing the services of a white label forex service provider as all the basics are already covered beforehand.
A white label provider takes care of all the marketing needs and enables the new brokerage firm to save enough on marketing costs, maintenance and technical development.
Reputable white label providers introduce necessary education and training techniques to their clients to make them self reliant and independent for future prospects.
Some Disadvantages Of Working With A White Label Forex Service Provider
There are certain limitations to using the services provided by a white label provider:
Companies or individuals who avail the services of a white label service provider tend to become a hostage to a buyer's decision because of strict contracts and end up losing the chance of developing and building their own brand.
The commissions charged by white label service providers are mandatory to be paid by the brokerage regardless of the financial structure of the new firm.
White Label Solutions – Full And Partial
There are two types of white label solutions available in the market that can be picked according to an individual's own need and strategies:
Full White Label Solution- The general idea of this type of white label solution can be easily extracted from the name itself. A full white label solution enables a brokerage firm to access all the necessary resources with the ability to rebrand when plausible. A full white label solution also enables a brokerage firm to accept and process deposits and make withdrawals as per the need.
Partial White Label Solution- A partial white label solution gives all the necessary assistance to a new firm but imposes certain restrictions when it comes to managing client funds. A partial white label solution also makes it difficult for the firm to rebrand by imposing some restrictions.
Steps To Pick The Best White Label Forex Solution
An aspiring white label forex broker should keep certain things in mind when it comes to picking a suitable white label service provider for maximum benefits:
Size Of The Company And Time Served- The tenure and size of a company are evident of its success streak and credibility among clients. A bigger size of the company along with a long service tenure should be opted by an aspiring brokerage firm.
Licensing And Regulations- Before picking a white label forex service provider a mandatory license and regulation check should be conducted. This adds extra points to the credibility of the company.
Fees And Commissions- A novice brokerage company must carefully evaluate all the hidden charges, fees and commissions charged by white label service providers. This will help in evaluating the financial situation and what exactly the new firm is being charged for.
Reputation- A good reputation eliminates the probability of possible fraud and bias to a large extent. Therefore, it is important to choose a company that has maintained a streak of clean records over the course of time.
Products And Services Offered- As a new brokerage business, you should pick a white label service provider that offers a range of products and services with an easy user interface and user experience.
What Do We Know About Grey Label Forex
People who are new or less experienced in the forex industry need to have a clear idea about the concepts of grey label. Given the great amount of jargon in the forex industry a clear and easily-understandable definition for newcomers can be very helpful. So what is a grey label in forex?
Grey label is quite similar to the concepts of white label. However, minute differences make them very different in approach. A business that avails the services of a grey label provider can promote their work by using the providers name rather than their own branded name. A grey label solution provides more flexibility to its clients by offering a greater control over client relationship and customization and relatively costs lesser as compared to white label.
Advantages Of Availing A Grey Label Service
Grey label is considered to be comparatively cheaper as a new company will only pay for using the services and not the ownership.
Grey label is considered more flexible in approach as the client can easily customize, manage and develop customer relationships.
A new brokerage firm can even develop their own brand name under the supervision of the grey label service provider.
Disadvantages Of Using a Grey Label Service
There are certain limitations to using grey label services that must be considered:
A new brokerage firm that works under a brand name of a grey label service provider fails to develop their own market presence and indirectly promotes the providers brands.
The set up cost is usually less for a grey label service but the commissions and fees are usually high as compared to that of a white label service provider.
Final Words
If you are an individual looking to start your own brokerage firm, you should definitely consider opting for either of the two: white label or grey label solutions. Your choice should however depend on your strategies, research, growth prospect and availability of funds. Making a wise decision will take you ahead and enhance your growth to a great extent.