Over 5 years of operation, Binomo has conquered the entire globe, including South Africa. The official website of the company has been translated into many different languages and the support service is also multilingual. The goal of Binomo was to create an accessible trading platform for making money on financial markets. And in many ways, this goal has already been achieved, as evidenced by the high ratings the company has received and its popularity throughout the world. This article will review this trading platform's advantages and disadvantages.This article will review the trading platform, highlighting the advantages and disadvantages for South African clients.
Binomo in South Africa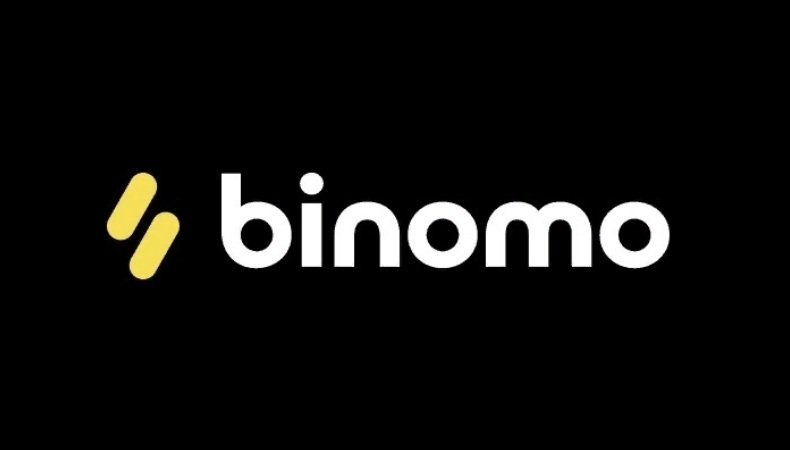 Binomo overview
1. Finances. Crediting and payments starting at $10. Large assortment of payment systems. Payments in 3 days or in 4 hours for VIP users.
2. Trading. Higher/Lower contracts and CFDs. Profits of up to 87%, durations from 1 to 60 minutes.
3. Platform. Trading on computers and mobile devices. Tools for technical and fundamental analysis. Simple, intuitive interface.
4. Tournaments. Daily and weekly contests with monetary prizes. An advanced platform for open and fair trader competitions. Prize funds of up to $80,000 or more.
5. Training. Video tutorials with the basics of trading, answers to questions from beginners, a glossary of professional terms. VIP users are offered individual training under the guidance of a mentor.
Trading terminal – Binomo South Africa
The success of Binomo is largely due to its high-quality web terminal. Very few companies can boast of this advantage. On the contrary, most prefer to use standard platforms. Binomo also entered the market in 2014 with a typical platform; however, a year later the first beta version of its own platform was released. It is still the same platform now, but significantly improved and with more functionality.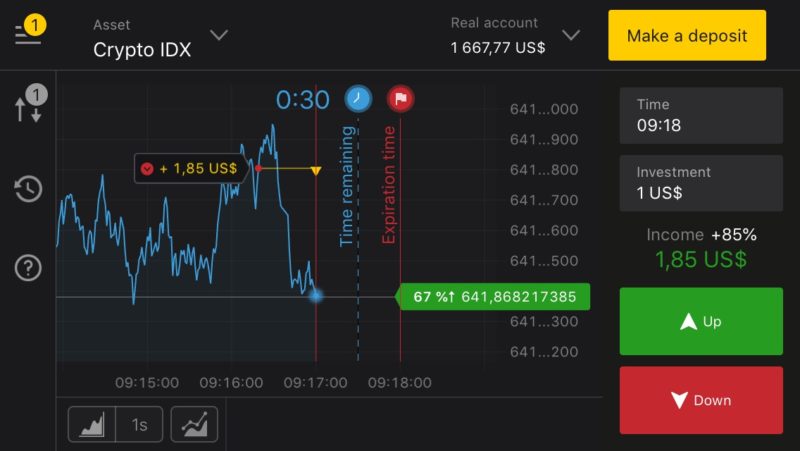 Web terminal features
* technical analysis – 14 indicators and 20 chart tools, chart scalability, scrolling, dragging, history viewing;
* fundamental analysis – built-in economic calendar with an overview of financial news and forecasts;
* trading – contracts with a fixed profit for increases or decreases, expirations from 1 to 5 minutes for turbo trades and from 15 to 60 minutes for standard ones, 50 trading assets, round-the-clock trading; See Binary options systems here >>
* interface – simple and clear, done in a minimalistic style, excellent functionality and compact. Implemented in contrasting dark colors.
In addition to the PC version, Binomo for South Africa also offers mobile terminals for iPhone and Android smartphones. You can download the official applications from the App Store and Google Play.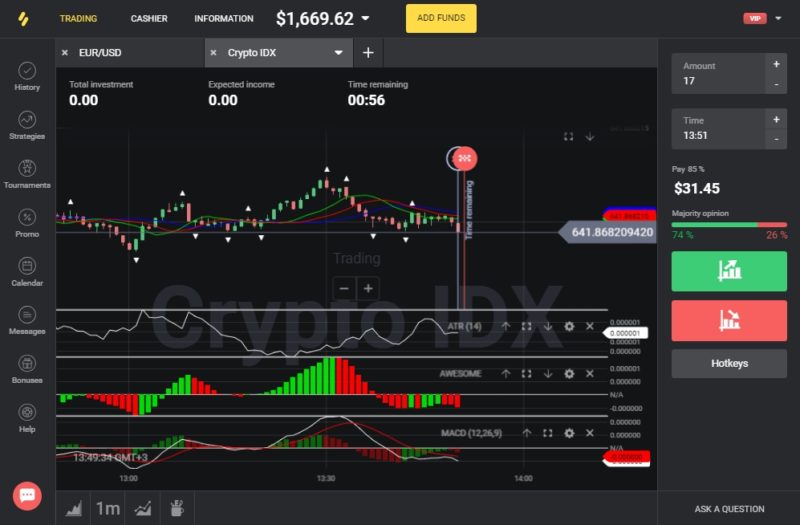 The functionality of the mobile terminals largely coincides with the web version. However, the number of indicators is reduced from 14 to 3. The smaller screen naturally imposes limitations on technical analysis. However, professionals can generally trade effectively on absolutely clean charts.
Payment Methods in South Africa
Binomo is a platform for making money, so special attention has been paid to the issue of payments. The range of available payment systems depends on the specific country. In South Africa, bank cards, cryptocurrencies, WMZ from WebMoney, PerfectMoney, and NETELLER are available. In other countries, there is also support for online banking and domestic payment systems used in that particular country. The range is updated periodically, so you can expect it to be expanded in the near future. The best choice is VISA or MasterCard.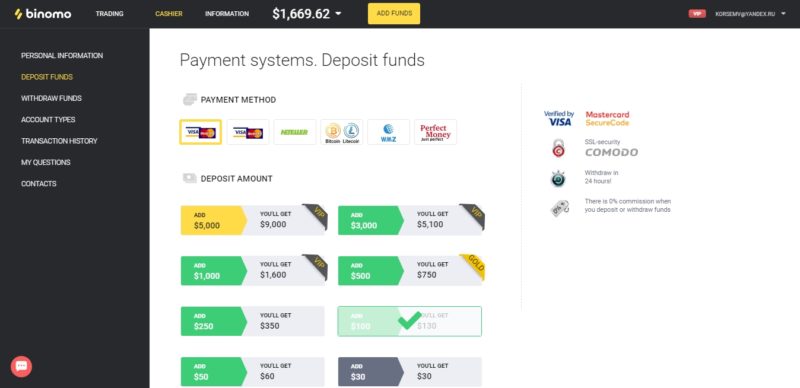 As of January 2019, the national payment systems popular in South Africa are not yet available on Binomo. However, this is planned for the near future. Payment policy is a key issue that the company tackles first after entering the market in a new country. The best choice at the moment is VISA, MasterCard, or NETELLER. The uninterrupted system of account crediting and payments is one of the key advantages of Binomo.
Education and support for beginners
Both beginners and professionals can trade on Binomo. The latter do not need additional instruction, but novice traders have not yet learned how to trade on their own for a profit, so the issue of learning is of key importance.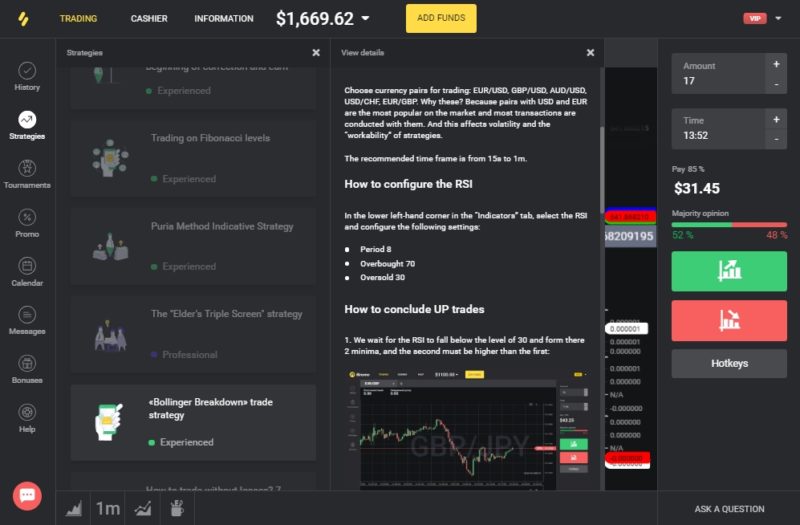 Binomo South Africa-  learning resources:
— video tutorials and newsletters in English;
— platform FAQ and a glossary of trader terms;
— ready-made strategies with step-by-step trading instructions;
— a demo account with an unlimited balance.
The support team consults with users in English via email, Skype, and around the clock online chat, accessible from any page of the company's website.
Trader tournaments
Binomo is a universal platform. Novice traders are trained to trade and professionals can apply their existing knowledge and experience to profit. And tournaments will also help with that.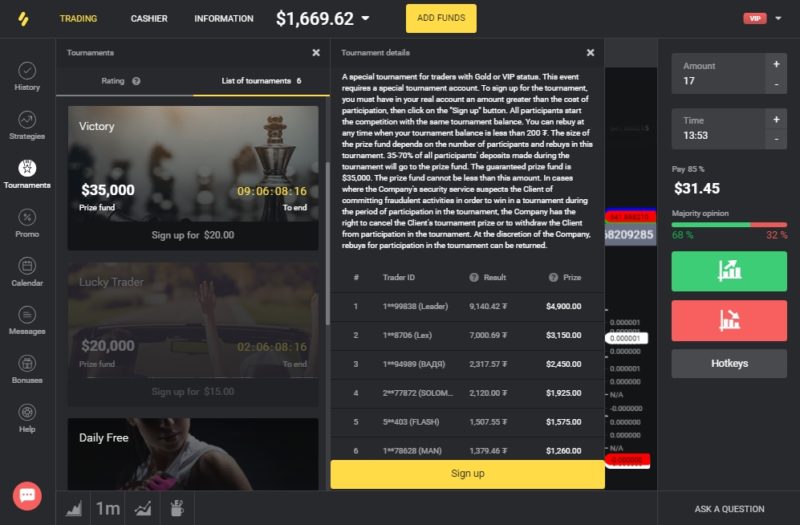 Regular Binomo trader competitions offer lots of money for winning. The number of prizes usually ranges from 20 to 60. This gives chances even to those who are not brilliant traders from birth. The potential of Binomo tournaments is very high. In fact, they provide an easy way for traders to earn with zero risk of losing their money by trading in the "Daily Free" competitions.
Conclusion
In this review, Binomo was looked at from different angles. As you can see, the company has really created an advanced trading platform that meets the demands of the majority of the target audience. Binomo entered the South African market relatively recently, so some issues concerning integration have not yet been fully developed. However, over 5 years of operation on the world market, the company has established itself as a very energetic participant who hastens to solve key issues.