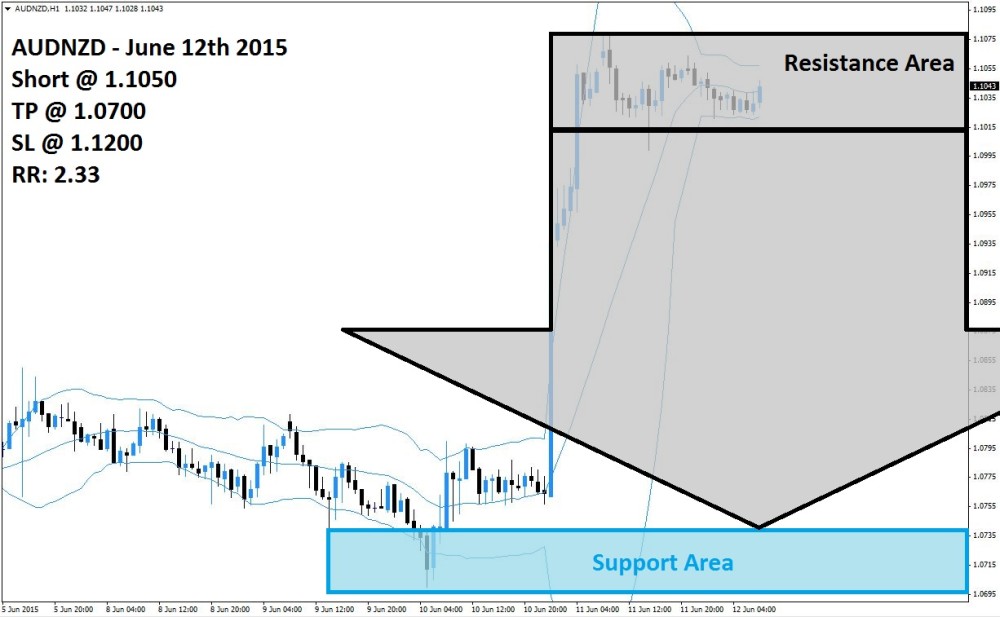 The AUDNZD rallied sharply after the Reserve Bank of New Zealand surprised forex traders with an interest rate cut of 0.25% to 3.25%. The market priced in no change at 3.50%. The announced interest rate cut prompted institutional investors to adjust their positions which resulted in activity in the retail sector as well. The sharp rally in the AUDNZD was supported by its Bollinger Band Indicator which followed the price spike.
The rally took this currency pair from its support area, visible in light blue in the above H1 chart, to its resistance area which is visible in light grey. The Bollinger Band Indicator has now flattened out inside of its resistance area which suggests a sideways trend. Forex traders may decide to take profits, especially if the sideways trend will last, which could result in a profit taking sell-off. A breakdown below the lower band of its Bollinger Band may trigger such an event.
Forex traders are recommended to enter short positions above 1.1050 in anticipation of the breakdown below its Bollinger Band Indicator; this would also mean a breakdown below its resistance area which would turn momentum from neutral to bearish. More conservative forex traders are advised wait for a confirmed breakdown below the lower band of its Bollinger Band indicator. A take profit target of 1.0700 has been selected for a potential profit of 350 pips.
Forex traders should protect this trade with a stop loss level at 1.1200 for a potential trading loss of 150 pips which will result in a Risk-Reward (RR) ratio of 2.33.
AUDNZD
Short @ 1.1050
TP @ 1.0700
SL @ 1.1200
RR: 2.33