Trading indicators – EMA 9, EMA 30 + Momentum indicator + Tom Demark Trendlines
Forex pairs – all
TF (TimeFrame) – H1
Broker – Any that offer MetaTrader 4 platform.
Price – Free
How to install MT4 indicators >>
This trading system use fast EMA(Exponential moving average) 9-period, slow EMA 30, momentum lines and also trendlines. Momentum is good indicator to filter the movements and can give you confirmation of the EMA's signals. But how you can use this combination of indicators?
Entry Rules: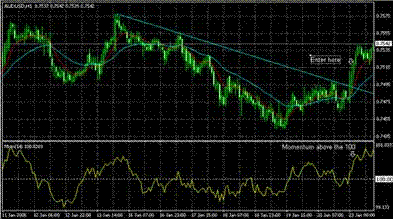 When to make BUY entry?
The market will give buy signal, when EMA 9 is above EMA 30. In most cases, when EMA 9 cross up EMA 30, we can expect upward movements. At the larger timeframes this system could work more and we can expect more pips. Sometimes this cross up is fake, so we can use Momentum indicator to confirm the signal. When Momentum indicator is above 100 and the price broke some trendline, we can confirm the bullish movement.
We reccomend entry of the trade to be placed after the opening of the new hourly candle after the cross (breakout). So this will confirm that the breakout is real.
When to make SELL entry?
You can make short entry, when the EMA 9 break down the EMA 30. The Momentum line should be under 100, as you can put trendlines for more confirmation of the breakout.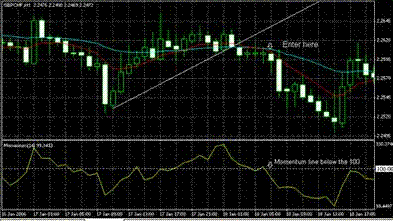 Stop loss could be put at 40 pips,
Take Profit  could be found between 40-150 pips, depends what is the movement and volatility. You can simply move your stop loss in the direction of the trades. If you see reversal, you can close your oder and take your profit.